"There are more things in Heaven and Earth, Horatio, than are dreamt of in your philosophy." — William Shakespeare
Do you believe in life on other planets?  Have you ever seen a UFO, been abducted, had a close encounter of the 3rd kind, or maybe just wish you had?  If so, today, World UFO Day, is a great time to tell your story! This little holiday is in commemoration of the Roswell Incident, which occurred on July 2, 1947.  It is also a time to challenge 'accepted theories' keep an open mind and let your imagination soar!
What happened at Roswell? A brief history:
On the morning of July 2, 1947, a New Mexico rancher named William Brazel found  something peculiar in his sheep pasture. It appeared to be some kind of crashed vehicle, consisting large metallic hunks, streams of plastic, foil reflectors, and scraps of glossy, paper-like material. The ranch was located in a desert area, some 30 miles outside of Roswell.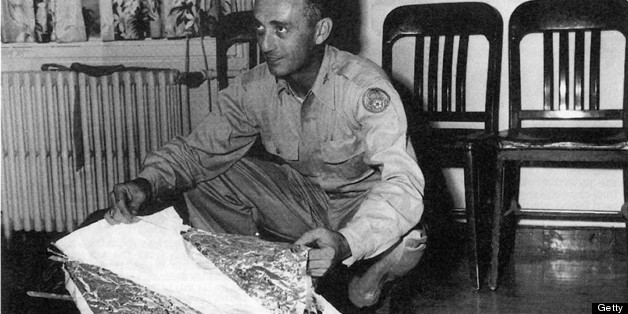 Brazel was confused. The events of the next few days get a bit fuzzy. Some accounts have Brazel collecting part of the wreckage and storing it for future reference. He eventually called the local newspaper and the sheriff, who contacted the nearby Roswell Army and Air Force Base. Soldiers came to retrieve the debris. It was taken away in armored trucks never to be seen again, but luckily the newspaper had gotten some pictures.
On July 8, the Roswell Daily Record ran a story about the "flying saucer" that was found on the ranch.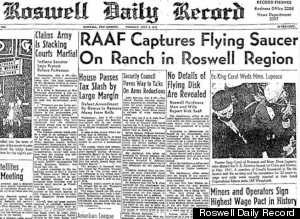 The government immediately went into cover up mode.  President Harry Truman declared the news must be kept a secret.  On July 9, an Air Force official stated that the so-called flying saucer was really a crashed weather balloon.
A weather balloon is a huge high altitude balloon sent out to test temperatures, atmospheric pressure and the like.  It is made of  latex, filled with hydrogen and helium, and has measuring devices at the end of a long string. (But there is nothing metallic about it!)
So the question is, if this crashed vehicle was really a balloon, why did the debris consist of metallic material, plastic foil and reflectors? Anyone who had seen the crash or the pictures of it, agreed it had to be something different.  Imaginations raced. Folk were more naive back then.  (In 1938 Orson Welles performed a prank radio drama of War of the Worlds. People believed every word and ran to the streets in a panic.)  At any rate, the citizens of Roswell thought the object did not come from Earth.
The Roswell Incident was hushed up and left for speculation for several years. Then, in 1994, the Pentagon finally declassified its files. The Federal Accounting Office produced a report  called "Report of Air Force Research Regarding the Roswell Incident" which was designed to debunk the ET rumors.
It turns out the Army had a reasonable explanation  — espionage and Russians!  Apparently, a group of government geophysicists and oceanographers had been working on a top-secret atomic project called "Project Mogul".  The project, they claimed, used weather balloons launched from New Mexico's Alamogordo Air Field. The balloons carried sound sensors into remote parts of the Earth's atmosphere. The theory was the US Government could use these high tech microphones to spy on the Soviet Union. Officially, they were trying to gain information about nuclear arms.  This was the beginning of the Cold War and all mistrusting eyes were on the Kremlin.
But people did not believe this story.  Was the government lying? To this day, many people think the government, the military and NASA are covering up the truth about alien landings. Each year, hundreds of thousands of tourists visit the Roswell site, hoping to find out the truth for themselves.
If Brazel's ranch crash had been an isolated incident, we could perhaps accept the government story.  But it was not. Not by a long shot.  Many other sighting occurred around this time. (And continue to occur to this day!)
For example, on June 24, 1947, eight days before the the Roswell crash, Kenneth Arnold, a private pilot of Search and Rescue Mercy Flyer claimed to have seen something very strange —  "nine unusual flying objects."  Arnold spotted them near Mount Rainier while on a reconnaissance flight in search of a missing military aircraft.  He described the objects as "brilliant" and their flight as "irregular" with "extraordinary speed".  He told his story to the Associated Press but they dismissed it. (Or were they paid to dismiss it?)  Why would a pilot, on a government reconnaissance mission, make up such a story, risking his own reputation?
Three months later, on September 23, 1947,  in a report of Air Material Command, Air Force General Nathan Twining acknowledged the existence "flying disks". In an official in depth government study, he reportedly described their performances and other information.
On February 12, 1948, Brigadier-General C.P. Cabell sent a memorandum to US Air Force Headquarters requesting that aircraft be placed on permanent alert in the United States and the territory of Alaska (not yet a state)  to: "collect and develop information and actionable data about flying disks."
Notice they are repeatedly using the name "flying discs".  This was not some sci fi, Twilight Zone creation, but terminology of the US government.
On March 25th, 1948, there was another "crash" of a ship of unknown origin near Aztec, New Mexico. The details and proof of this were not well established. Testimonies were few, and it seems much was done to stifle journalists who tried to report it.
The cover-ups got even more interesting as the year went on!
On July 25, 1948, the flight crew of Eastern Airlines indicated a "risk of collision with a flying object resembling a wingless fuselage."  This object was approximately 100 feet  long and "twice the diameter of a B-29 Super-Fortress" — which meant around 300 feet wide!  Captain Clarence Chiles and second pilot John Whitted described a "deep dark blue glow around the craft, with orange-red flames on the back."
The drafting of  the pilots' report led to an investigation by air traffic services. As a result, the ATIC (Air Technical Intelligence Center) wrote a summary document on "flying disks"  concluding they were of an "extraterrestrial origin."  This conclusion, however, was  rejected without explanation by the commander-in-chief of the US Air Force, General H. Vandenberg.  (Why? Again, there were professional pilots. Why would they risk their reputations and their livelihoods, just to report a crazy story?)  Vandenberg then ordered that all copies of the document be destroyed!
Then… the FBI got involved!
On January 31, 1949, a memorandum was sent to J. Edgar Hoover, director of the FBI, by one of his agents. The memo read: "During a recent weekly counterintelligence conference of the Office of Naval Intelligence, G-2, Office of Scientific Intelligence and the CIA, the subject of "unidentified aircraft", also known as "flying disks", was discussed and is considered TOP-SECRET by Army Intelligence Officers and the Air Force. "
What Hoover did with this material is anyone's guess.  Hoover was a notorious FBI bulldog. He later became Richard Nixon's right hand man, an expert in wiretaps,  break-ins, and general cloak and dagger spy vs. spy stuff.
In the meantime, the astronomy world was not far behind.
On August 20, the famous astronomer Clyde Tombaugh (1906-1997) told a Time reporter how he observed a "strange flight of 6 to 8 rectangular lights flying over Las Cruces, New Mexico."  Tombaugh later stated in a letter to scientist Richard Hall (dated 10 September 1957): "I was not prepared for such an observation and was petrified and astonished".
Since then, and up to the present date, there have been many recordings of strange incidents all over the world. However, the events occurring in New Mexico in 1947-49 indicate the US government took an active role in the investigation of UFOs and had a vested interest in keeping the public uninformed.
The universe is a big place.  To my thinking, it would be extremely arrogant of humankind to assume that in this enormous cosmos, where our little planet is akin to a grain of sand on a beach, we are the ONLY intelligent life form. That seems impossible.
What do you think? Have you ever had experiences with UFOs or Extra-Terrestrials? Do you believe in the possibility? Let me know in the comments!
Have a Happy UFO Day, and don't forget to watch the night sky!  The Pleiadians just might give us a greeting.
 a memorandum to US Air Force Headquarters requesting that aircraft be placed on permanent alert in the United States and Alaska to: "… collect and develop information and actionable data about flying disks "