She was a singer, a dancer, an ex-patriot American, a member of the French Resistance, a Civil Rights activist, a four time divorcee and the mother of twelve adopted children. Her performances on the stages of New York and Paris were legendary. Today we celebrate the life of the fabulous Josephine Baker!
Bleak Beginnings
Her birth name was Freda Josephine McDonald. She was born on June 3, 1906, in St. Louis, Missouri.
Her mother, Carrie McDonald, once had dreams of becoming a dancer, but gave them up and earned her living as a laundress. Her father is listed as Eddie Carson, a vaudeville drummer. (Her father's identity, however, has been challenged by many, including Josephine's son, who did extensive research on the topic.) If indeed Eddie was her father, he abandoned her so quickly that Josephine never met him.
Carrie McDonald eventually married a man named Arthur Martin, with whom she had several more children. The family were poor — so poor that Josephine was sent out to work as a maid when she was just eight years old. But housekeeping did not suit Josephine, and she was abused by her employers. Soon she was living on the streets of St. Louis, dancing on corners for money, and dumpster diving for her dinner. Reportedly, she and her mother had a strained relationship and Josephine preferred to live away from Carrie.
At the tender age of thirteen, Josephine met a man named Willie Wells and married him. The marriage only lasted a few months. Josephine left Willie but continued dancing and had some success as a member of a troupe called The Jones Family. In 1921, at age fifteen she met another Willie — Baker this time — and married him. That marriage was also short lived. Later that year, when Josephine was given a chance to perform in New York City, she ditched Willie # 2. Josephine would legally divorce him in 1925, but she decided to keep his name for her professional career.
Angel of Harlem
The Harlem Renaissance was in full bloom. Josephine had success as a chorus girl on Broadway.  She starred in a revue called "Shuffle Along" and in another called "Chocolate Dandies".
Despite those rather exploitative names, Josephine became the highest paid chorus girl in vaudeville. But she was unhappy. The claws of racism were always around her. Of her time in the Big Apple, Josephine said:
"I didn't get my first break on Broadway. I was only in the chorus in 'Shuffle Along' and 'Chocolate Dandies'. I became famous first in France in the twenties. I just couldn't stand America and I was one of the first colored Americans to move to Paris."
Viva La France
In 1925,  when she was just nineteen years old, Josephine was given the opportunity to travel to France and she jumped at it. In Paris she opened in a show called "La Revue Nègre".
Josephine was an overnight sensation. Her dancing was erotic and exotic. She famously wore a skirt made only of bananas. She wore little else on stage, often appearing semi nude.
As Josephine's success grew, she eventually purchased a pet cheetah, which she brought to the shows! She named her big cat "Chiquita" and clothed him in a diamond collar.  Chiquita was known to hang out in the orchestra pit and terrorize the musicians.
Although "Chiquita Bananas" do not admit to it, I am pretty sure they got their logo from Josephine. The Chiquita logo was not created until 1944, supposedly the brainchild of comic strip artist Dik Brown. But take a look. The logo has Josephine all over it.
Josephine quickly became the darling of the "Lost Generation", hobnobbing with the likes of Ernest Hemingway and the Fitzgeralds. Hemingway called her "the most sensational woman anyone ever saw."  She was a favorite of Pablo Picasso, who sketched her, and director Jean Cocteau helped her get started in the movie business. She starred in Siren of the Tropics (1927), Zouzou (1934)  Princesse Tam Tam (1935) and Fausse Alerte (1940).
In 1937, at age thirty-one, Josephine married the French industrialist Jean Lion, and became a French citizen. This marriage would last three years.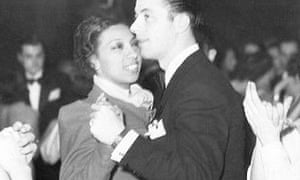 Ah, Paris in the thirties! It was all so idyllic and romantic! Then the Nazis came.
"All the Boys Think She's a Spy…"
France declared war on Germany in 1939, after the Nazi occupation of Poland. Josephine was then recruited by the military intelligence agency known as the Deuxième Bureau. Her job was to socialize at parties, which were held in embassies and government ministries, all the while gleaning information about German troop locations. Apparently, her charm, wit and "je ne sais quoi" were perfect elements that enabled her to rub elbows with high ranking officials. She would then report back her findings.
This whole scenario begs the question, why Josephine? It seems a little odd. Can you picture undercover agents at the  Théâtre des Champs-Élysées, recruiting a half naked banana girl? But this was years later. Josephine had matured. America had not yet joined the war. Maybe the French military intelligence figured a black American ex-patriot could sneak around, without raising suspicion. Plus, Josephine had acquired a lot of street smarts from her hard scrabble days in St Louis. She was, no doubt, able to bluff the best of them. She also had to be super smart, and a master of disguise,
Josephine performed her services well. When the Germans invaded France, she left Paris and went to her home in the south of France. There, she housed people who were helping the exiled French government, and supplied them with visas. As an entertainer, she had an excuse for moving around Europe. She secured and transmitted information about airfields, harbors, and German troop concentrations in the West of France. She kept her notes written in invisible ink on her sheet music!
How's that for some cloak and dagger genius?
After the war, Josephine received several medals of honor for her service. She was made a Chevalier of the Légion d'honneur (the highest order of military merit) by General Charles de Gaulle.
Know Your Rights
In 1947 Josephine married the French conductor Jo Bouillon.
This marriage would last fourteen years. Jo happened to be white (as was her other husband Jean Lion.) 
Throughout her life Josephine had been a victim of racism and was an advocate for human rights. In the 1950's, although still living in France, she was an important part of the American Civil Rights Movement. When she and Jo traveled to New York they were refused accommodations at 36 hotels because of racial discrimination. (Inter-racial marriage was then illegal in the US.)
Josephine began to write articles about segregation in the United States. She gave a talk at Fisk University, a historically black college in Nashville, Tennessee, on "France, North Africa And The Equality Of The Races In France".
Throughout her career, Josephine had refused to perform for segregated audiences. In the US, she refused a $10,000 offer to perform at a segregated club in Miami. (Roughly about $150,000 in today's money.) The club eventually succumbed to Josephine's wishes, allowing people of all races to enter.
Josephine spoke alongside Dr. Martin Luther King in the 1964 March on Washington for Civil Rights. Josephine, along with Rosa Parks, was one of the few female speakers. It is a powerful speech, and one that is seldom mentioned.  Josephine states:
"I have walked into the palaces of kings and queens and into the houses of presidents. And much more. But I could not walk into a hotel in America and get a cup of coffee, and that made me mad. And when I get mad, you know that I open my big mouth. And then look out, 'cause when Josephine opens her mouth, they hear it all over the world."
Listen to the whole speech here. (About 3 minutes.)
She's A Rainbow
Josephine had suffered several miscarriages in her life, finally undergoing a hysterectomy in 1941. While married to Jo Bouillon, adoption became her passion. Josephine wanted to create a family of children based on how she thought the world was supposed to be. This meant people of all races, religions and nationalities living peacefully side by side. She set about creating this family, adopting children from all corners of the planet. She called her children "The Rainbow Tribe".
Josephine took the children on trips all over the world, but mostly they lived at her home in the south of France, the Château des Milandes.
Josephine actually opened the chateau to tourists so people could come in and see kids of all races playing and interacting. She even deliberately raised the children in different religions.
The children were:  French-born Marianne, Moroccan-born Stellina, Korean-born Jeannot, Japanese-born Akio, Colombian-born Luis, Finnish-born Jari, French-born Jean-Claude and Noël, Israeli-born Moïse, Algerian-born Brahim, Ivorian-born Koffi, and Venezuelan-born Mara.
Wow! And you thought Angelina Jolie was eccentric?
Unfortunately, all these adoptions took a toll on her husband Jo. They separated in 1957, after Josephine took in her eleventh child. They officially divorced in 1961.
The Show Must Go On
Josephine began performing again in 1968 at age sixty-two. She still wowed audiences, touring throughout Europe. Her last performance was on April 8, 1975. She was starring in a retrospective revue at the Bobino in Paris, celebrating her 50 years in show business.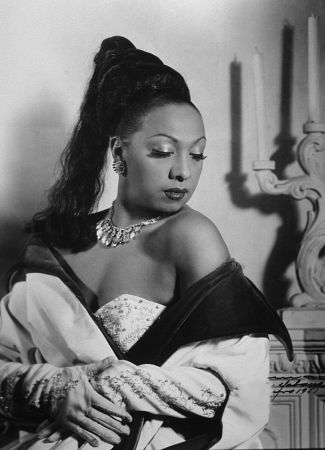 The show received rave reviews. As usual, Josephine attracted top celebrities.  Members of her audience included  Sophia Loren, Mick Jagger, Shirley Bassey, Diana Ross, and Liza Minnelli.
Sadly, the review was cut short. On April 12, Josephine suffered a cerebral hemorrhage and went into a coma.  She was taken to Pitié-Salpêtrière Hospital, where she died, at age 68.
Fun Facts
Grace Kelley, aka Princess Grace of Monaco, was Josephine's BFF. Oddly, they bonded over civil rights when Josephine was refused service at the Stork Club in New York. Grace, a patron, saw the discrimination, took Josephine by the hand and stormed out.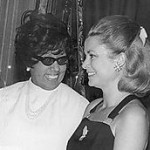 In Paris, during the Banana Dance years, she received 40,000 love letters and over 1,000 marriage proposals.
In 1951, the NAACP declared May 20 to be "Josephine Baker Day". 

Josephine's adopted son Jean-Claude Baker wrote a biography about her, published in 1993, titled Josephine: The Hungry Heart. In it he poses theories about Josephine's true father —  a rich, white, German man.
To be fair, Jean-Claude seems a bit snarky. He claims that her many adoptions were because "she wanted a doll".  He also claims his mother had "slept with most of the Nazi soldiers" before she became a spy.
Hemingway thought she was sexy, but he also admired her mind. Reportedly they spend hours in serious conversation.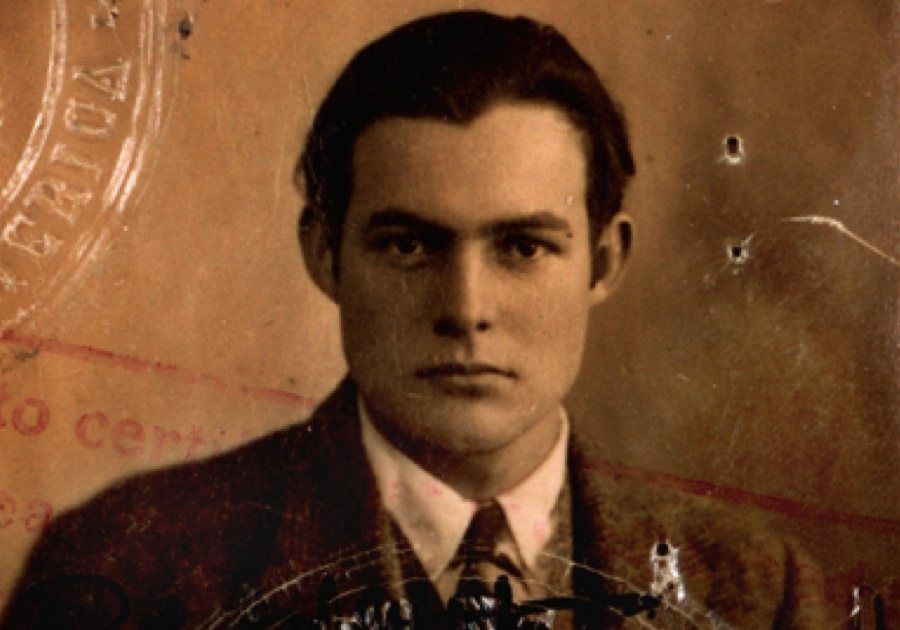 Coretta Scott King asked her to take over the Civil Rights Movement after Martin Luther King was assassinated. Josephine pondered it for several days, but declined because of her children.
In later life Josephine went bankrupt. (Yeah, that Rainbow Tribe was expensive!) It was BFF Grace Kelly, by then the Princess of Monaco, who came to the rescue, giving her a villa to live in and financial aid.
Husband Jo is buried next to her at Cimetière de Monaco.
Happy Birthday Josephine! You will never be forgotten.