I was saddened yesterday to hear about the death of one of my favorite film directors, Franco Zeffirelli. He was ninety six.
I owe a lot to this man. If you are a regular reader of this blog, you probably know about my Shakespeare obsession. However, I probably would never have had that obsession if it had not been for Zeffirelli, who really made Shakespeare accessible to American audiences through his awesome films.
Zeffirelli was the director The Taming of the Shrew, Romeo and Juliet, Othello and Hamlet. He also directed Brother Sun, Sister Moon (about the life of Saint Francis of Assisi), Jesus of Nazareth, Tea With Mussolini, Jane Eyre, Callas Forever, and several operas, including La Boheme and La Traviata with Placido Domingo.
Of course, in my opinion, his biggest masterpiece was his 1968 version of Romeo and Juliet. Zeffirelli's genius in this film was that he decided to use teenage actors Leonard Whiting and Olivia Hussey to play the roles of actual teenage characters Romeo and Juliet. Zeffirelli's production was the first ever to use teenagers in the roles, as Shakespeare had intended.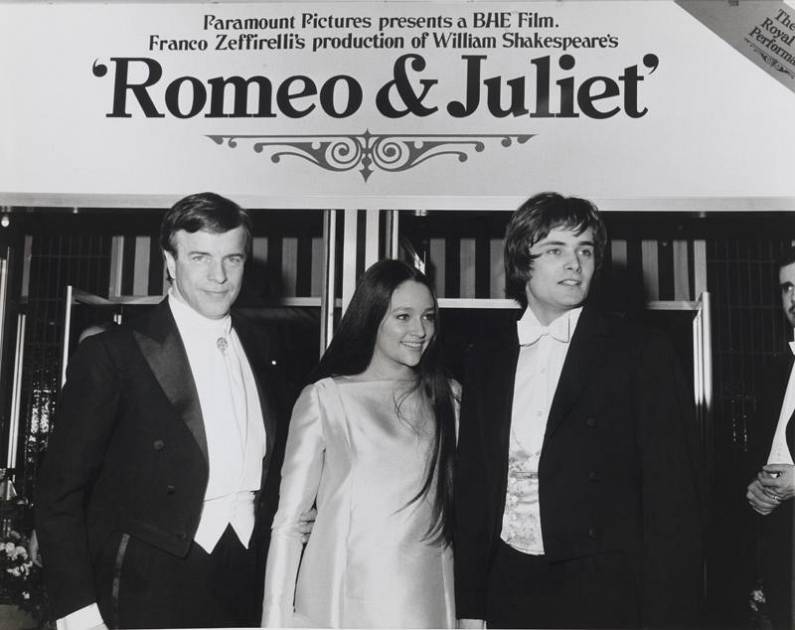 The movie was a massive hit. The iconic film critic Roger Ebert called the movie "the most exciting film of Shakespeare ever made." (That was a pretty great compliment, because if you remember Roger Ebert, he was sort of a discriminating snob! But he knew his movies.)
I have always loved Romeo and Juliet,  it is my all time favorite film. Luckily, Zeffirelli lived long enough to be part of its 50 year anniversary last year, in 2018.  I wrote a tribute to the movie, which can be read HERE.
Gian Franco Corsi Zeffirelli was born on February 12, 1923 in Florence, Tuscany. He was an illegitimate child, the product of an affair between fashion designer Florentine Garosi, and Ottorino Corsi, a wool dealer. Interestingly, the name "Zeffirelli" was totally made up by his mother. It was taken from Mozart's opera Idomenco, which Florentine was fond of. The actual word was "Zeffiretto" which apparently means "zephyr" or "gentle breeze" in English. However, the name was misspelled on Franco's birth certificate, and was ever after recorded as "Zeffirelli".
It was a strange beginning for a man who would become such an important figure in the art world. However, there is a bit of poetic justice, as Zeffirelli's name was taken from an opera, and he became a director of operas.
As far as being a "gentle breeze" I would say Zeffirelli was not only a breath of fresh air in the film world, but a force to be reckoned with.
FUN FACTS
Zeffirelli's father was a wool dealer. Shakespeare's father was also a wool dealer (an illegal one! John Shakespeare got in a lot of trouble and went bankrupt in later years for his criminal activity.) However, it is ironic that the man who would help immortalize Shakespeare had this unique connection.
Shakespeare was an Englishman who spent his entire life being obsessed with Italy. Zeffirelli was an Italian who spent his entire life being obsessed with England. That is why they fit together so well 🙂
When young Franco was six years old, his mother died. As an orphan, he went to live with is Aunt Line. Through his aunt, he met and was largely cared for by a group of upper-class, rather eccentric English women, expatriates living in Italy. These women were known as the "Scorpioni" — so named for their stinging, scorpion-like outspokenness.
Young Franco was given English lessons and came to love English culture.
The Scorpioni were arrested during WWII under the dictatorship of Benito Mussolini.
Zeffirelli wrote and directed the 1999 movie Tea With Mussolini (starring Cher, Judi Dench and Maggie Smith) which was based on his own experiences with the Scorpioni.
Zeffirelli's Taming of the Shrew (1967) starred Elizabeth Taylor and Richard Burton. Burton and Taylor wanted to be in the film so badly, they paid for part of the production and gave up their own salaries. (Both were mega-stars at the time. They could well afford it!)
Although Zeffirelli considered himself a conservative Roman Catholic, he received criticism from religious groups for his so-called "blasphemous" portrayals of biblical figures in Brother Sun, Sister Moon and Jesus of Nazareth.
Zeffirelli served in the British Army during WWII.
In 2004, he was given an honorary knighthood by Queen Elizabeth II.
Franco Zeffirelli, thank you for making me love Shakespeare.
Rest in Peace, sweet knight!