She was the sister of that somewhat roguish and notorious Pre-Raphaelite painter, Dante Gabriel Rossetti, and she often seems to be left in the shadows, both in life and death. But Christina Rossetti was an accomplished Victorian poet in her own right. Born on this day, December 5, 1830, she is best known for her collections of romantic and devotional poems.
Christina Rossetti was born in Charlotte Street in London, to Gabriele Rossetti, a poet and a political exile from Vasto, Abruzzo, and Frances Polidori, the sister of Lord Byron's friend and physician, John William Polidori. With a pedigree like that, perhaps the Rossetti children were destined for greatness  
Christina was home schooled and by all accounts was a bright and lively child. She took  an early interest in poetry, especially that of John Keats, Sir Walter Scott and Anne Radcliffe. The family situation, however, was not always stable and they suffered extreme financial difficulties. In the 1840's, her father had to leave his teaching position at King's College due to health problems. Christina's teenage years seem to have been clouded by isolation, poverty, depression and mental illness. (All of which are the fuel of great poetry!)
Christina served as an artist's model for her brother Gabriel on several occasions. The most famous of these portraits  is Ecce Ancilla Domini (Latin: "Behold the handmaiden of the Lord"), or The Annunciation, in which she portrays the Virgin Mary.
Christina Rossetti's poems began to receive recognition in 1848, when she was just 18 years old. She published several sonnets and ballads, and wrote for literary magazines. In 1862 her most famous work,  Goblin Market and Other Poems, was first published.  It received widespread recognition and was praised by literary giants Alfred Tennyson and Gerard Manly Hopkins. Christina was considered one of the best female poets of her time.
The title poem, Goblin Market, has been interpreted in various ways. Upon first glance, it may appear to be a children's poem about misadventures with goblins. Two sisters, Lizzie and Laura, hear the call of the goblin men, selling fruit in the market: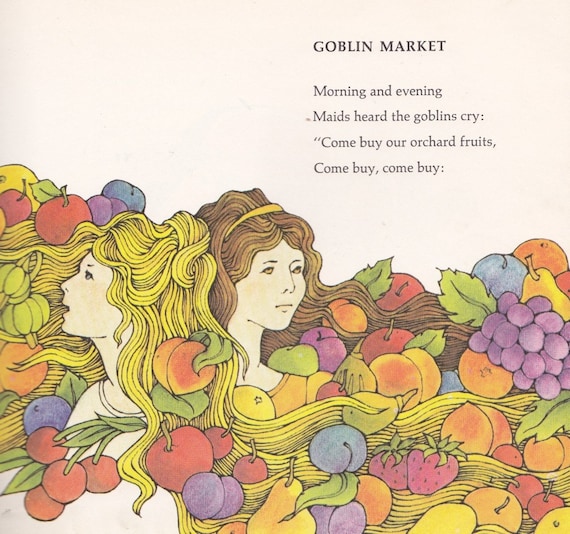 Morning and evening 
Maids heard the goblins cry: 
"Come buy our orchard fruits, 
Come buy, come buy: 
"Figs to fill your mouth, 
Citrons from the South, 
Sweet to tongue and sound to eye; 
Come buy, come buy."
However, upon closer look we see that this is no children's poem. It is a complicated work, full of double entendre as well as dark, erotic imagery.
"We must not look at goblin men, 
We must not buy their fruits: 
Who knows upon what soil they fed 
Their hungry thirsty roots?" 
"Come buy," call the goblins 
As the poem continues, the girls succumb to the temptation of the goblins and their fruit: We are told they'd "never tasted such before… She suck'd and suck'd and suck'd the more, fruits which that unknown orchard bore, She sucked until her lips were sore."
Some critics have interpreted the poem as an allegory about temptation and salvation. It has also been seen as a commentary on Victorian gender roles — the girls being forbidden from the market in much the same way Victorian women were forbidden from many aspects of life. Others say it is a work about erotic desire and social redemption. Christina was a volunteer worker from 1859 to 1870 at the St. Mary Magdalene "house of charity" in Highgate, a refuge for former prostitutes. Some historians and critics have suggested Goblin Market may have been inspired by the "fallen women" she came to know.
In the scary world of Victoriana, with dangers lurking all about, Jack the Ripper on the loose and the daily horrors of poverty and the industrial revolution, The Goblin Market can be seen in many disturbing ways.
But don't take their word for it! Decide for yourself…  Read the entire poem here.
In her lifetime, Rossetti supported several social causes. She spoke out against slavery, advocated for animal rights, and opposed the exploitation of young girls forced into prostitution. (She had, no doubt witnessed a good deal of this exploitation during her volunteer days at Mary Magdalene.)  Rossetti was a strong voice for women of the repressive Victorian Era.
She remained single throughout her lifetime, turning down three proposals of marriage. One was from the Pre-Raphaelite painter James Collinson, a colleague of her brother Gabriel. Another was from the linguist Charles Cayley. The third offer came from another painter, John Brett, whom she also turned down. This would have been pretty outrageous, considering the fact that most Victorian women had the "life style choices"  of wife, nun or whore. Yet Christina somehow managed to establish herself as a writer and poet.
In later life, Christina suffered from Graves Disease and breast cancer. She died in Bloomsbury December 29, 1894 and was buried in Highgate Cemetery.
The poet leaves us with these words:
When I am dead, my dearest,
         Sing no sad songs for me;
Plant thou no roses at my head,
         Nor shady cypress tree:
Be the green grass above me
         With showers and dewdrops wet:
And if thou wilt, remember,
         And if thou wilt, forget.
I shall not see the shadows,
         I shall not feel the rain;
I shall not hear the nightingale
         Sing on as if in pain:
And dreaming through the twilight
         That doth not rise nor set,
Haply I may remember,
         And haply may forget.
Happy Birthday Christina.