They were two notorious cross-dressers who moved easily in the circles of men. Known as tough-talking, hard-drinking, immoral cutthroats, they were sexually promiscuous, hot tempered, sly and stealthy. They were often more ruthless than the men they sailed with.
Anne Bonny and Mary Read were swashbucklers who ventured boldly onto the high seas — a place where females were often banned. They helped usher in what was known as the "Golden Age of Piracy".
On this day, November 28, 1720, Anne and Mary were both convicted of pirate crimes and sentenced to death. Both also managed to escape execution while the men of their crew swung from the gallows. They cleverly utilized both biology and feminine instinct. Together, they challenged the long standing sailors' notion that women aboard ship are bad luck…
"Disguise, Thou Art a Wickedness."
Anne Bonny was the illegitimate daughter of an Irish attorney named James Cormac, and his housemaid Mary Brennan. She was born in County Cork in 1698. Because her birth caused scandal and disgrace, her father left his family, taking baby Anne to live with him in London.
To avoid the further "scandal" of living with a little girl, Cormac reportedly began dressing his young daughter as a boy. (A scheme which probably taught Anne that girls had much to be ashamed of…)
Eventually Cormac took Anne and her mother to the Americas where they lived in the colony of North Carolina.
Mary Read was also taught cross-dressing as a young child. Mary was born in England in 1685. She, too, was an illegitimate child, the daughter of a sailor's wife. The sailor had gone off to sea, abandoning the family. Mary had a half brother. He was the sailor's legitimate child, and her mother, having been left penniless, was receiving money to raise the boy from his paternal grandmother. However, this boy died. Mary's mother — not wanting to end her cash flow —  then began dressing Mary in boy's clothes and passing her off as the brother. (A scheme which probably taught Mary that a boy was worth more than a girl…)
Rebel Rebel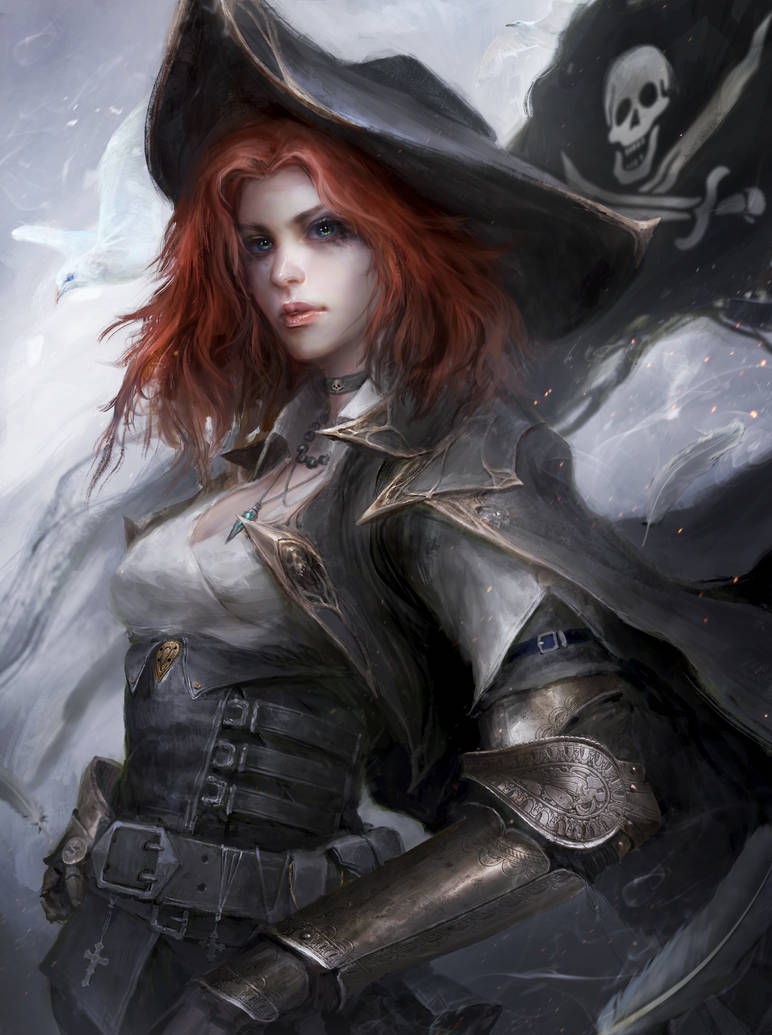 Anne was described as "red-haired and pretty." She was strong willed and became a rebellious teenager. Increasingly defiant, she eventually married John Bonny, a penniless sailor, against her father's wishes. Cormac disowned her. The couple then moved to what is now Nassau, in the Bahamas, which was then considered a sanctuary for English pirates.
Anne quickly got bored with her unambitious husband. She took to hanging out in taverns and seducing the local pirates. There she met the edgy and flamboyant swashbuckler John Rackam, known as "Calico Jack" (so named for his loud clothing!)
The two became lovers and ran away together. Anne became a member of Calico Jack's crew — still cross-dressing as a man. It is said that the other pirates never realized Anne was a woman until years later when she became pregnant with Jack's child.
Meanwhile, back in England, Mary Read also continued her cross-dressing. She found out she could quickly get work as a boy and took several jobs. She soon began living as a full fledged man called "Mark".  Mary/Mark was so convincing she was actually given a position in the British Navy!  She proved herself a worthy soldier, fighting in the Nine Years War.
But then, Mary fell in love with a Flemish soldier. They married, and for a while, Mary lived as a woman. She was a respectable wife. The couple bought and operated an inn in The Netherlands.
However, Mary's husband died and the business went belly up. Desperate for work, Mary once again resumed her identity as a man and took to the high seas. But during peacetime, there was little chance for jobs in the military. It was then she decided to become a pirate, and (you guessed it!) took up with the boisterous and belligerent crew of Captain Calico Jack.
A Walk on the Wild Side
When Mary came aboard ship, it is said that the promiscuous Anne, thinking Mary was a man, almost immediately fell in love with "him."
Anne then bared her own breasts, revealing herself as a woman. Mary must have thought the facade was fun — or perhaps she just had too much too lose in her true identity.  She kept up the ruse for a while, but when a jealous Calico Jack entered her bedchamber and threatened to slice her throat, Mary also revealed herself as a woman. This apparently subdued Jack's envy.
What went on between the three of them after that is anyone's guess, but by 1720, both women were pregnant.
The women had many adventures together. They were both feared and revered. In the book Black Barty; Bartholomew Roberts and His Pirate Crew 1718-1723, one victim  named Dorothy Thomas, left a description of Anne and Mary:
"They wore men's jackets, and long trousers, and handkerchiefs tied about their heads: and … each of them had a machete and pistol in their hands and they cursed and swore at the men to murder her me. Yet I knew they were women, from the largeness of their breasts."
On November 15, 1720,  Calico Jack's ship was captured.
Yo Ho Ho and a Bottle of Rum!
One night, having taken port in Negril Point, off the coast of Jamaica, Calico Jack and his scurvy knaves decided to have a celebration. They hosted a rum party with another crew of English pirates. Apparently, all of them were pretty drunk and had no clue of their fate when pirate hunter Captain Jonathon Barnett sneaked in the harbor. Barnett took the pirate ship by surprise, disabling it with a rampage of fire. Jack and his men ran to the hold and hid for the duration of the battle — too inebriated to fight back.
Anne and Mary. however, did not give up! They stayed on deck, battling to the end, firing their pistols and swinging their cutlasses.
According to one legend, Mary was so disgusted with the men that at one point she stopped fighting, peered over the entrance of the hold and yelled, "If there's a man among ye, ye'll come up and fight like the man ye are to be!" No one responded. Mary then fired a shot down into the hold, killing one of them.
Eventually Barnett's forces took over. The women knew they had to surrender. The entire crew were imprisoned.
Calico Jack was scheduled to be executed by hanging on November 18. His final request was to see Anne. Upon her visit to his cell, she had only one thing to say to him:
"If you had fought like a man, you need not have been hang'd like a dog."
Ten days later, on November 28, she and Mary stood trial at the Admiralty Court in St. Jago de la Vega, Jamaica. Both of them were found guilty and sentenced to be hanged. BUT — remember I said they were both pregnant by this time? It turned out to be their saving grace — also known as "pleading the belly." Executions for pregnant women were always postponed until the child was born.
Sadly, Mary died of a fever in prison. She was buried on April 28, 1721 at Saint Catherine's Church in Jamaica.
As for Anne, there is no record of her release, execution, or death. It is suspected she may have escaped and returned to Nassau. In his 1724 book A General History of the Robberies and Murders of the most notorious Pyrates, author Charles Johnson wrote:
"She was continued in Prison, to the Time of her lying in, and afterwards reprieved from Time to Time; but what is become of her since, we cannot tell; only this we know, that she was not executed."
Not bad for a gender bending bastard who managed to outlive Captain Jack, as well as leave a swashbuckling legacy behind her! 🙂